call_me_crazy
NRTeam Member Since 10.13.07
Profile Views: 1578
Last Login: 01.31.09
Details

Age:
22
Gender:
F
Relationship:
Single
Location:
, Florida
Occupation:
High School
Denomination:
Christian
Favorite Saying:
"Shoes can change your life, just ask Cinderella."
Favorite Music:
Alternative rock, emo, indie, hip hop, and pop
Interests:
Writing, daydreaming, reading, playing video games, writing music, skateboarding, listening to music, playing bass, drawing, baking, hanging out with friends, talking on the phone, and shopping.
NRTeam Points Summary

Artist Profile Submissions
1
Artist Photo Submission
0
Album Detail Submissions
3
Album Review Submissions:
32
Lyrics Submissions
293
Music Video Submission
0
Author Profile Submissions
1
Book Detail Submissions
3
Book Review Submissions
5
Launch Pad Submissions
0
NRTeam Friends Added
121
NRTeam Referral Points
10
Blog Posts
53
Forum Posts
36.5
Misc. Points Awarded
100
TOTAL NRTEAM POINTS
658.5
NRTEAM POINTS SPENT
425
AVAILABLE NRTEAM POINTS
233.5
---
---
call_me_crazy's Comments
Displaying 5 of 45 comments
View All | Add Comment

February 13, 2010, 18:13PM

Hey,

love what you've got to say about homeschoolers. It seems like everyone just has the whole thing backwards... WE'RE NORMAL KIDS!!!

Millie

February 09, 2009, 15:55PM

December 21, 2008, 18:39PM

MyHotComments

August 19, 2008, 12:30PM

Hey sorry i've havent been on for a long time;how have you been?

May 31, 2008, 13:31PM

I'm good geting ready for camp! What type of music is your band play/or bands you sound like?
NRTeam URL
http://www.newreleasetuesday.com/nrteam/call_me_crazy
call_me_crazy Is...
---
About Me
Well...because this website is mainly about music, I'll start with that. My favorite band is Switchfoot and I like Search the City, Ruth, Casting Crowns, Jonas Brothers, Paramore, David Cook, Daughtry, and Saosin. I like A LOT of artists but there's a few that I just DON'T like. Pettidee really isn't my thing, Showbread irritates me, Stellar Kart pretty much says the same thing over and over again in their songs and Krystal Meyers says 'like' and 'you know' too many times when she's talking. But if you like the four artists I just mentioned, I'm glad you found something you like.

My friends call me Lyssa and so can you. I'd like to be an author or a musician one day and until then I keep busy doing school stuff.

I really like messing around on the computer. HTML codes are awesome and I could play with them all day. They're kind of like dogs, if they do what you want them to do, you love them, but if they don't work the way you want them to, then you hate them. That's just the way it is.

Something else I love is names, I like strange names that you don't hear very often. My favorite girl names are Victory, Tempest, Bingley, and Charlotte. My favorite boys names are Dickens, Phineus, Lucas, Dimitri, and Lincoln. If you like any cool names, send them to me! :D

I also LOVE fantasy novels, my favorites are The Chronicles of Narnia, Percy Jackson and The Olympians, The Last Apprentice, The Spiderwick Chronicles, The Septimus Heap Trilogy, The Inheritance Trilogy, The Lost Years of Merlin, and Ranger's Apprentice. And I just want to let you know, I'm a fantasy nerd and I'm proud to be one! So if you're a fantasy nerd, send me a message about your favorite fantasy novel.

I'd like to say something else. I'm homeschooled. No, I don't wear my pajamas all day. No, I don't get to graduate early. No, I don't get recess any time I want. No, I'm not antisocial. No, my mom was never a teacher. No, I'm not a social outcast. No, I do not go to school in Orlando. I actually have to work REALLY hard in school so don't think that it's any easier.

I'd like to say something else that I want to make perfectly clear. I AM NOT A VEGETARIAN. I like to eat animals. I'm alergic to wheat and milk so meat's pretty much all I can eat. Well...that and salads and I do participate in salad eating on occasion but how long can you eat lettuce? And what else are animals for? Don't get me wrong, I love animals but I don't mind eating them, they'd probably eat me too if they got the chance.

Oh, yeah, my twin sister, Katelyn, is a NRT team member too. She'd love to be your friend. Here's a link to her account:
http://www.newreleasetuesday.com/nrteam/i_got_rhythm


Oh yeah, I'm in a band with my sister and cousin, we're going to be setting up a purevolume account as soon as we record our songs so I'll post the link when I get it. :) We're still trying to come up with a band name so if you have a good one, send me a message!
So that's pretty much me. God bless. :


Cursor by www.Soup-Faerie.Com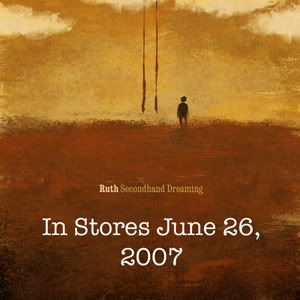 >
Ruth is awesome, check them out!



---
---
Latest Album & Book Reviews
call_me_crazy Has

37

Reviews | View All
Do Hard Things by Brett and Alex Harris
This book is AMAZING! It's totally changed my life. I know that sounds corny, but it's true. I have a totally different perspective on life now. I always thought that being a teenager was the only time that I could just waste my life, so I did, I spent ...
[read more]
The Cross Centered Life by C. J. Mahaney
This is a great book. It's very encouraging and thought provoking. It's written very simply, no big words or anything so that anyone can read it and apply it to their life.
[read more]
Learning to Breathe by Switchfoot
Okay, I love Switchfoot and while this album isn't my favorite, I still love it. 'Love is a Movement' and 'Inoccence Again' are my favorite songs and if you're a die hard Switchfoot fan then you should totally get this album but if you're not, ...
[read more]
If I Had One Chance to Tell You Something (Special Edition) by Rebecca St. James
This is one of my favorite albums, ever since I was really young, I loved all of Rebecca St. James' albums and this one's no exception. I love the songs 'Forgive Me' and 'God Help Me.' This is definately one of her best albums and I would recommend ...
[read more]
by
One of the best books I've ever read. C.S. Lewis is a genius, I recommend this book to everyone!
[read more]
---
---
Top 12 NRTeam Friends
call_me_crazy Has

121

Friends | View All
NRTeam Friends Recent Activity
---
Favorite Artists & Authors
call_me_crazy Has

0

Favorite Artists & Authors | View All